Cat Boarding
We also provide boarding for cats at the clinic, and we're proud to offer new, spacious cat condos.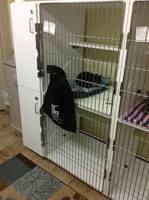 Dog Boarding
We offer boarding for dogs at the clinic and also at Paws Motail. The clinic has cages for short stays and small dogs only. Plus, a new outside fenced-in area at the clinic for dogs to run and play. For larger dogs and long stays we would recommend Paws Motail. For more information go to pawsmotail.com.
If needed dogs can be dropped off at the clinic and taken to Paws Motail.