Holmes Animal Clinic Inc. was established in 1974 by Dr. Doug Holmes. The practice continued to grow through his extreme love of veterinary medicine.


In 1991, Doug's son, Dr. Jeff Holmes, returned home after two years of practice in Pella, Iowa. The practice showed tremendous growth with Dr. Doug providing the majority of large animal and ambulatory duties, while Dr. Jeff was committed to improving the small animal practice to where it is today. In 2003, Dr. Jeff purchased the practice from his father after he was forced to retire due to medical reasons.


Since that time, Dr. Jeff has implemented state-of-the-art equipment and services. Holmes Animal Clinic offers full in-house lab work, digital radiography, digital dental radiography, ultrasonography, endoscopy and laser therapy. Dr. Jeff has been extensively trained and offers full surgical procedures involving soft tissue and orthopedics. He receives many referral cases on orthopedic cases.
Our Staff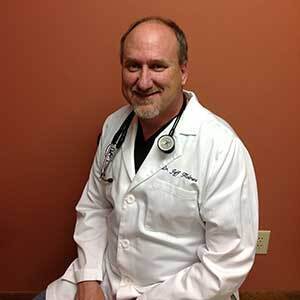 Dr. Jeff Holmes graduated from Iowa State University College of Veterinary Medicine in 1989. He continues to be the Senior partner and works with small animals and Equine.

When he can find time Dr. Jeff enjoys breeding and selling show cattle throughout the year .Dr. Jeff also enjoys spending time at the lake with his children and grandchildren watching sports and attending and cheering on the the Iowa State Cyclones Football and Basketball games.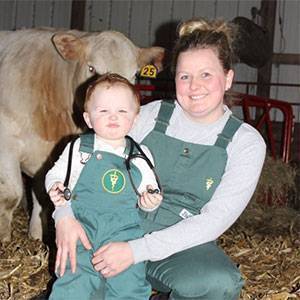 Dr. Danielle Holmes

Bio coming soon.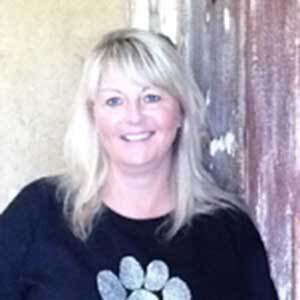 Deanna Holmes
Practice Manager

Deanna has worked part-time the last eight years. She does the purchase orders for the clinic along with payroll and assists with the animals when needed. She also operates the Paws Motail Boarding Facility. She keeps busy with dogs when not working at the clinic. She has two dogs of her own, Ella and Ava. Deanna enjoys spending time with her three children, her grandson Koen and working with the show livestock.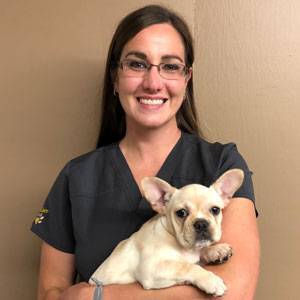 Bethany Herrick
Certified Veterinary Assistant 
Office Manager 

Bethany started in February 2012. She manages the front office and assists with the animals. She lives on the outside of Algona on an acreage with her husband TJ and three children. They have two cats and goats. In her spare time Bethany enjoys spending time with her family and friends.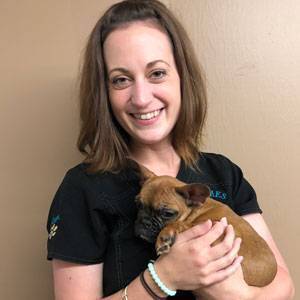 Alissa Mayer
Certified Veterinary Assistant


Alissa is a 2010 graduate from Hawkeye Community College with degrees in Animal Science and Veterinary Assisting. Ally grew up in Bancroft, IA and knew she always wanted to work with animals. Ally previously worked here for two years in 2011 & 2012 and started back at the clinic in February 2015. She has two dogs, Audrey & Seamus, as well as two cats, Sully and Olive. Ally lives on an acreage outside of Algona with her husband Joe and one child. In her spare time Ally enjoys spending time with family and friends, working on her family farmhouse, cooking, knitting, and reading.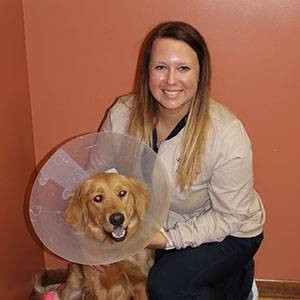 Carly Main
Veterinary Technician

Carly started working at the clinic in 2015. Ever since she was little, Carly knew she wanted to work in the medical field. Her passion and love for livestock drove her to graduate from Iowa Lakes with her Veterinary Technician Degree in 2016. Carly grew up on an acreage with livestock and crops just outside of Buffalo Center. In her spare time, Carly enjoys showing livestock. Her biggest point of interest being in ovine.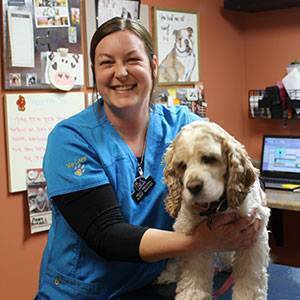 Kelli Penton
Client Services
Kelli joined Holmes Animal Clinic in November of 2017. She is married with three fur babies, Lucy, Abbie, and Squirrel. She has a long history of working with people, in and out of the medical field. In her spare time, Kelli enjoys spending time with her family and friends. Along with her love of animals, Kelli loves being out in nature, especially in her kayak on the river.
Merete Klocke
Veterinary Technician

Merete is a 2016 graduate from Iowa Lakes Veterinary Technicians program, and has a minor in Pet Shop Management. She started here at the clinic in August 2017. Merete is a retired Army Veteran of 25 years. Merete is married with three children. Her family has a funny farm of five dogs, two indoor cats as well as farm cats, two horses, turtles, a rabbit and chickens. In her spare time she enjoys spending time with her family, her kids events, and being outside in nature with animals.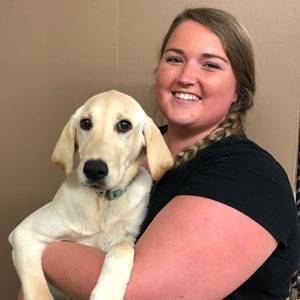 Morgan Mueller

Morgan joined our team in August of 2018 and is a recent graduate of Iowa State University (Go Cyclones!). Morgan helps manage the clinic, and can also be found filling in wherever needed. She has always had a love for animals as she grew up on a farm outside of Whittemore, where her family had pigs, horses, cattle, dogs, cats, and a very sassy mini pony! In her spare time, Morgan enjoys spending time with her family and friends, being at the lake, cheering on the Cyclones, and snuggling with her mini goldendoodle, Kash!
Abbie Buscher, LVT

Bio coming soon.